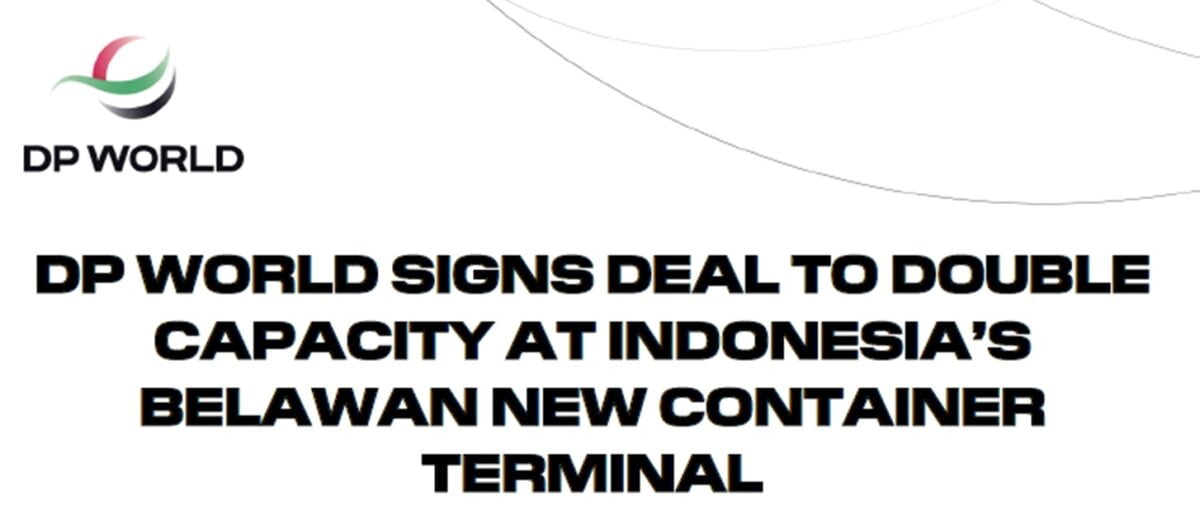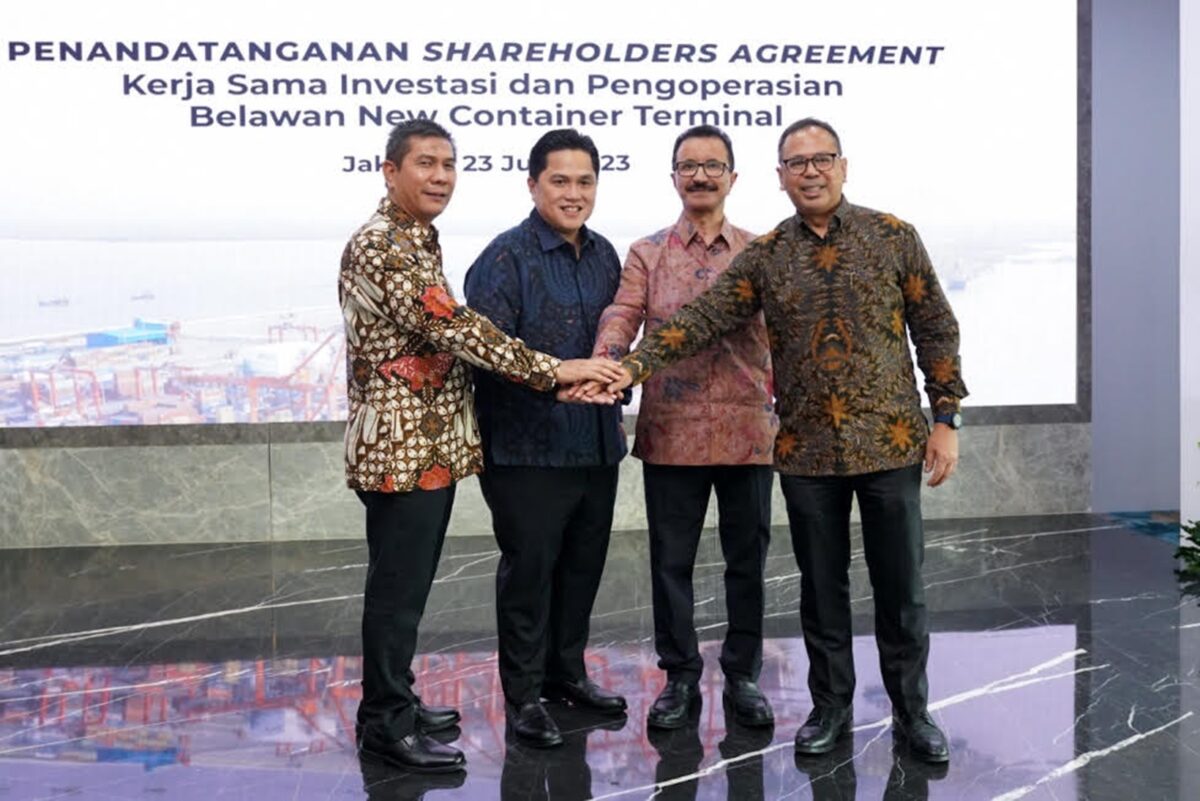 Jakarta, Indonesia, 23 June 2023: DP World is set to commence operations at Indonesia's Belawan New Container Terminal (BNCT), after finalising an agreement with the Indonesia Investment Authority (INA) and Pelindo to manage the terminal and begin a major expansion.
The strategic partnership between the Indonesia Investment Authority (INA), Indonesian government-owned port operator Pelindo, and DP World, will create Indonesia's most direct link with the Malacca Strait, one of the world's busiest shipping routes.
The agreement was signed by Sultan Ahmed Bin Sulayem, Group Chairman and CEO of DP World, Arif Suhartono, President Director of PT Pelabuhan Indonesia (Persero), and Ridha Wirakusumah, CEO of Indonesia Investment Authority.
In the longer term, the agreement aims to increase BNCT's capacity to 1.4 million TEUs, up from 600,000 TEUs currently. BNCT will also aim to attract more direct calls, reducing North Sumatra's reliance on regional hub ports to access regional and global markets.
The BNCT currently serves as a local hub for the neighbouring provinces in Sumatra. The expansion and modernisation programme will strengthen its position as a major trade and logistics gateway in the Malacca Strait.
Alongside modernising maritime infrastructure, DP World will also work with its partners to connect other terminals and small ports on the Island of Sumatra to further realise the BNCT's role in reducing container logistics costs within Northern Sumatra.
Minister of State-Owned Enterprises, Erick Thohir, said:
"As directed by President Joko Widodo, there is always strategic value for equity and acceleration of economic growth in the regions and nationally through port development, including this new container terminal at the Port of Belawan which is believed to support downstream to maximise exports in new ways and also accelerate the economy in North Sumatra which continues to grow. This is in accordance with the objectives of the Terminal port development which will strengthen the national port industry ecosystem, as well as the competitiveness of Indonesian ports as strategic trade routes in Southeast Asia and internationally."
Sultan Ahmed Bin Sulayem, Group Chairman and CEO of DP World, said:
"We are proud to help Indonesia expand the Belawan New Container Terminal and support its ambitions to develop the economy of Sumatra through infrastructure. By investing in cutting-edge sustainable technologies, world-class training and the highest standards of health and safety, we aim to eliminate inefficiency and enable the flow of trade between Indonesia and the world."
Arif Suhartono, President Director of PT Pelabuhan Indonesia (Persero), said:
"Today's Shareholder Agreement is a significant milestone and follows the signing of the Master Agreement in August 2022. This has been a long and complex process, but I'm delighted that the agreement is now a reality thanks to the hard work and collaboration of all parties. I am optimistic that this agreement will be a catalyst for the further development of the BNCT as a world-class, connected and fully integrated container terminal that is the foundation for increased trade and a brighter future for our exporters, downstream industries and people. The realisation of the Belawan Investment and Operations collaboration represents business expansion and strategic partnership, which are key pillars of our 2023 roadmap. This collaboration is also proof that after the merger, the level of investor confidence in Pelindo has increased."
Ridha Wirakusumah, CEO of INA, said:
"INA's investment in Belawan New Container Terminal serves as a crucial step towards positioning Indonesia as a prominent maritime axis, and key player in the global logistics industry. This transformational project supports Indonesia's economic growth and advances its maritime sector, becoming an important role in driving economic growth in Indonesia."
— END —
About Pelindo
State-owned PT Pelabuhan Indonesia (Persero) or Pelindo is the largest port operator in Indonesia. Pelindo carries the vision of becoming a world-class integrated leader in the maritime ecosystem, and the mission of realizing a national maritime ecosystem network through the increment of network connectivity and service integration, to support Indonesian economic growth.
For more information, please visit www.pelindo.co.id.

About DP World
Trade is the lifeblood of the global economy, creating opportunities and improving the quality of life for people around the world. DP World exists to make the world's trade flow better, changing what's possible for the customers and communities we serve globally.
With a dedicated, diverse and professional team of more than 103,000 employees spanning 75 countries on six continents, DP World is pushing trade further and faster towards a seamless supply chain that's fit for the future. In Asia Pacific, DP World employs more than 7,000 people, and has ports and terminals in 17 locations.
We're rapidly transforming and integrating our businesses — Ports and Terminals, Marine Services, Logistics and Technology – and uniting our global infrastructure with local expertise to create stronger, more efficient end-to-end supply chain solutions that can change the way the world trades.
What's more, we're reshaping the future by investing in innovation. From intelligent delivery systems to automated warehouse stacking, we're at the cutting edge of disruptive technology, pushing the sector towards better ways to trade, minimising disruptions from the factory floor to the customer's door.
---
---
---
---
---
---
---
---
---
---